Grass is a common block type, but can only be found on the surface so is less common in Dig Deep mode. It can be mined with any pickaxe, has the same hardness as dirt and can be used to build almost anything.
Appearance
Edit
Grass Blocks look like blocks of dirt that have grass growing out of the top and sides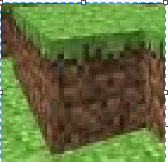 .
Variation(s)
Edit
Notes/Trivia
Edit
Grass cannot actually be mined, it turns to dirt once broken.
Grass grows on dirt blocks that are adjecent to other grass blocks.