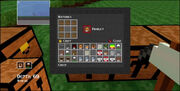 Chests are used to store stuff. Like dirt, titanuium, carbon and any other item, including weapons and pickaxes. There is room for fourty items inside of chests. "Treasure Chests" can sometimes be found underground inside of caves, these are usually filled with coins and a valuable mineral, like obsidian. The grief premisson is used to ensure chest safety. If grief is off, then nobody can take items out of chests. If grief is on, chests become usable again. A locked chest can only be opened by the person who puts it down or admins. Please see the locked chest page for helpful hints about locked chests. Good luck and have fun :).
Ad blocker interference detected!
Wikia is a free-to-use site that makes money from advertising. We have a modified experience for viewers using ad blockers

Wikia is not accessible if you've made further modifications. Remove the custom ad blocker rule(s) and the page will load as expected.